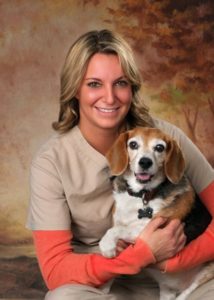 Practice Manager and Certified Veterinarian Technician
Team member since 2005
Amy graduated from the Veterinary technician program at Argosy University in 2005 and became a Certified Veterinarian Technician. Amy first served her internship and then joined the team at Valley View Pet Hospital. Prior to joining Valley View Amy gained professional certification in Avian, Reptiles, Small Animals and Aquatics care. Amy has always had a passion for animals and a special interest in the exotics aspect of her job and continues to educate herself within this changing medical field.
In February of 2008 Amy was promoted from Lead technician to Hospital Manager. Since then she has done a wonderful job and taken a lot of duties off the backs of the doctors to allow them to concentrate more on their medicine.
Amy currently lives in Prior Lake with her son Ryder. Their family includes an old beagle, Jaden; an old cat, Trigger; a bunny, Bugs; a cockatiel, Tweety, and a leopard gecko, Spike.