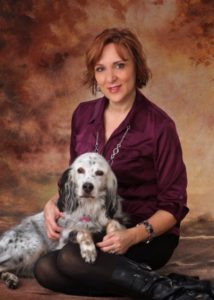 Dr. Michelle Tholl
Veterinarian
Team member since 2002
Dr. Michelle Tholl grew up in eastern Pennsylvania and Ohio and graduated from Cuyahoga Community College with an Associate's Degree in Music.
She received a Bachelor's degree in Biology and a minor in Music from Baldwin –Wallace College in Berea, OH in 1987. She worked as a research technician at both Case Western University School of Medicine in Cleveland, OH and later at Mayo Clinic after moving to Minnesota in 1989. Michelle received her Doctor of Veterinary Medicine degree in 1998 at the University of Minnesota School of Veterinary Medicine.
Dr. Michelle Tholl joined Valley View in April of 2002 as a part-time Associate, and also works as a veterinary hospitalist for South Metro Animal Emergency Clinic Although she was formally trained in equine/mixed animal medicine, she has practiced as a small animal/exotic clinician since graduation in 1998. Michelle has a strong interest in exotic pet medicine, particularly avian medicine and pocket pets, and enjoys client education, emergency medicine and general practice. When not practicing (animal) medicine, she enjoys spending her time with her children, Corey, Asher, Kyrie and Morgan. She also is a member of Grace a Plenty, choral singing group at St. James Lutheran Church in Burnsville, and plays trumpet occasionally. She loves being outdoors during the short Minnesota summers, constructing her perennial gardens, running, and participating in anything pertaining to arts/crafts/theater and music.