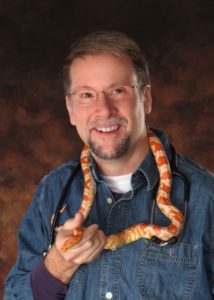 Dr. Larry Tholl
Veterinarian
Team member since 1999
Dr. Larry Tholl is a graduate of The University of Minnesota School of Veterinary Medicine.
He was born and raised in Needham Massachusetts and graduated from the University of Massachusetts with a degree in Anthropology. Dr. Tholl pulled up stakes and moved to Minnesota in 1992.
Dr. Tholl joined Valley View in 1999 and immediately started expanding the number of exotic pets seen at the Hospital. He took over ownership of Valley View in 2002.
He has a special interest in exotic pets, surgery and geriatric medicine. He has treated a variety of species ranging from koatimundi and alligator monitors to macaws and koi. His own pets include 1 cat, two dogs, a canary and a rat snake. His out of work interests include hiking, camping, woodworking and caring for the brood of pets and kids.